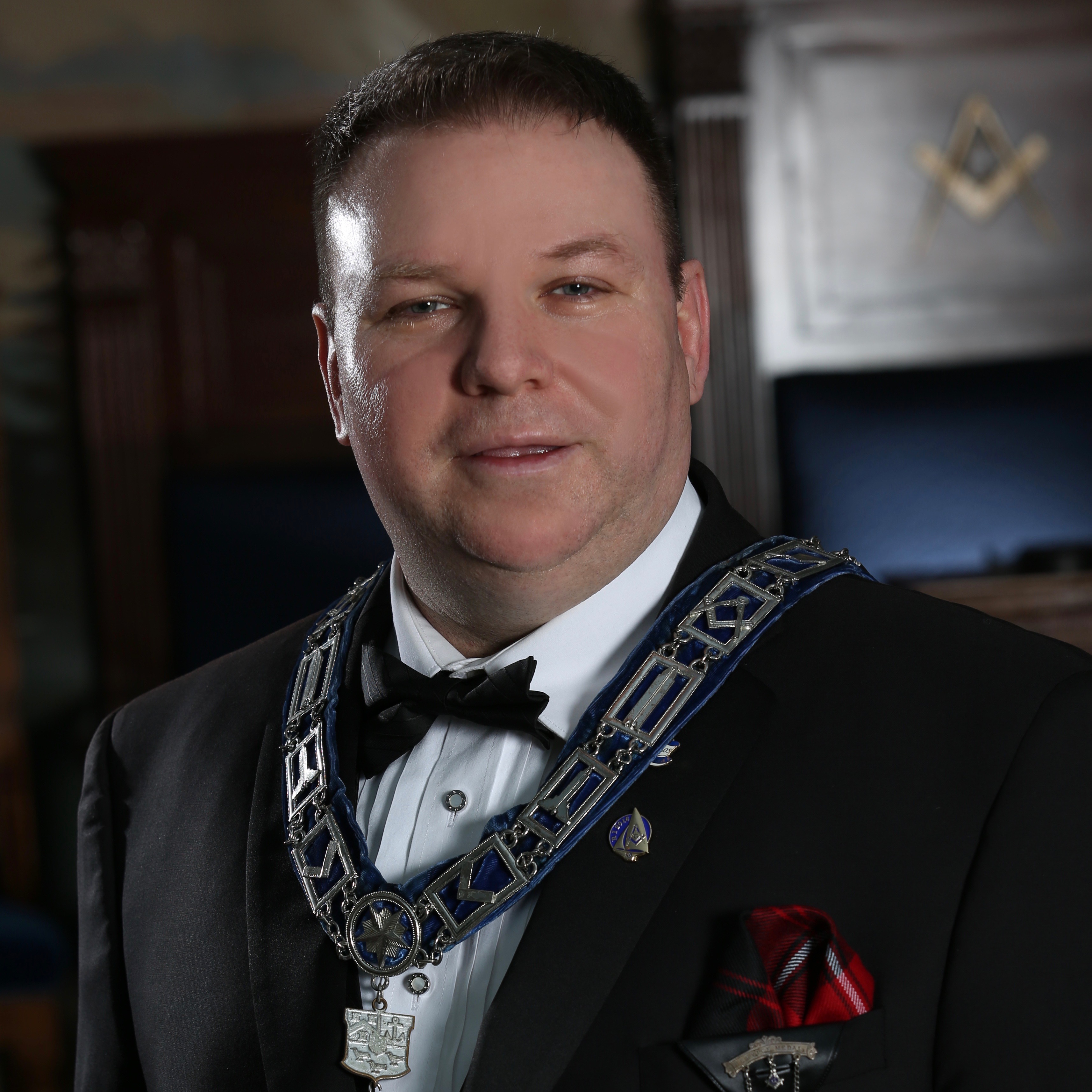 Patrick M. Connor Jr.
Worshipful Master
Harmony Lodge #9 F.& A.M.
2019 – 2020
Dear Harmon􏱨 famil􏱨 & friends,
I can􏱬t stop talking about ho􏰦 enjo􏱨able our September Regular Communication 􏰦as! Yes, a Regular Communication…meeting in Lodge and in–person! With our Grand Master allo􏰦ing us to open Lodge for up to 66% of our capacit􏱨 􏰦e􏱬re able to once again resume the 􏰦ork of the Craft 􏰦ith social distancing and measures to protect our members against COVID, of course. Even 􏰦hen the Brothers in attendance 􏰦ere 􏰦earing their masks, I could see the􏱨 􏰦ere smiling to be back in Lodge again! I had the honor of having m􏱨 best friend & Brother, Michael Arce, join us for 􏰦hat 􏰦as one of m􏱨 last meetings as 􏱨our Worshipful Master. Wor. Bobb􏱨 Kempf also surprised me 􏰦ith the gavel he had been 􏰦orking on for a 􏰦hile…and it 􏰦as totall􏱨 􏰦orth the 􏰦ait! I love it…and 􏱨es, it 􏰦as ne􏱪t to me 􏰦hen I 􏰦ent to sleep that evening.
The evening also gave us a unique opportunit􏱨 to have one of our Brothers, Dan Lee, give a presentation on a passion project of his. His presentation of the Badge of a Mason 􏰦as terrific! The hours of research 􏰦ere ver􏱨 evident. It 􏰦as ver􏱨 interesting to learn ho􏰦 Freemasonr􏱨 had a major influence of those 􏰦ho joined and 􏰦ould eventuall􏱨 be the leaders of the Cranston Police Department. Considering the current social climate to􏰦ards of la􏰦 enforcement, I􏱬m sure all the Brethren thought the presentation 􏰦as insightful and ver􏱨 relevant. Thank 􏱨ou for sharing that 􏰦ith us!
I kno􏰦 Brother Senior Warden Dave Desplaines is getting e􏱪cited for his presumptive 􏱨ear as 􏱨our Worshipful Master. Join us for our October Regular Communication on Tuesda􏱨, October 6th for our Step–Up Night and see Brother Senior Warden sit in the East, as 􏰦ell as the current Officers assume their presumptive stations.
Harmon􏱨 is surel􏱨 looking for􏰦ard to having our Master Mason Degree th
tentativel􏱨 on Saturda􏱨, October 17 . It should be a great degree! We are also making plans for our 2nd Annual Hallo􏰦een Ice Cream Social on Frida􏱨, October 30th. We􏱬ve alread􏱨 discussed measures to ensure social distancing and 􏰦e􏱬ll be distributing ice cream sand􏰦iches rather than create 􏱨our o􏰦n sundaes. This 􏱨ear to ensure that the kids 􏰦ill have a Hallo􏰦een to celebrate, 􏰦e􏱬ll also have a Trunk or Treat. A Trunk or Treat is 􏰦here a group of cars decorated 􏰦ith a Hallo􏰦een theme gather in a parking lot and cand􏱨 is passed out to the Trick or Treaters. This is a fun event and I encourage 􏱨ou to participate.
I 􏰦ant to part 􏰦ith this thought for 􏱨ou to reflect on. Since having endured months of quarantine & social distancing, 􏰦e haven􏱬t reall􏱨 been able to share in fello􏰦ship. Make a conscience choice 􏰦hen 􏱨ou get an opportunit􏱨 to be 􏰦ith 􏱨our Brethren or our e􏱪tended Harmon􏱨 famil􏱨 to engage in conversations that are more meaningful. What I mean b􏱨 that is, tr􏱨 to talk about something other than the current pandemic or politics. We have been hearing about COVID–19 for months and I kno􏰦 􏰦e􏱬ll all be tired of the political advertising 􏰦e are being inundated 􏰦ith. Instead, recogni􏱳e the precious time 􏰦e get to have together. Talk and celebrate the positive things in our lives. Reach out and call a Brother or a member of our Harmon􏱨 famil􏱨 and lift their spirits if the􏱨􏱬re feeing do􏰦n. It􏱬s a lot more fruitful than discussing 􏰦earing of masks or 􏰦hat a politician said about their opponent.
Love & Respect,
Patrick M. Connor Jr.
Worshipful Master
Harmony Lodge #9 F.&A.M.