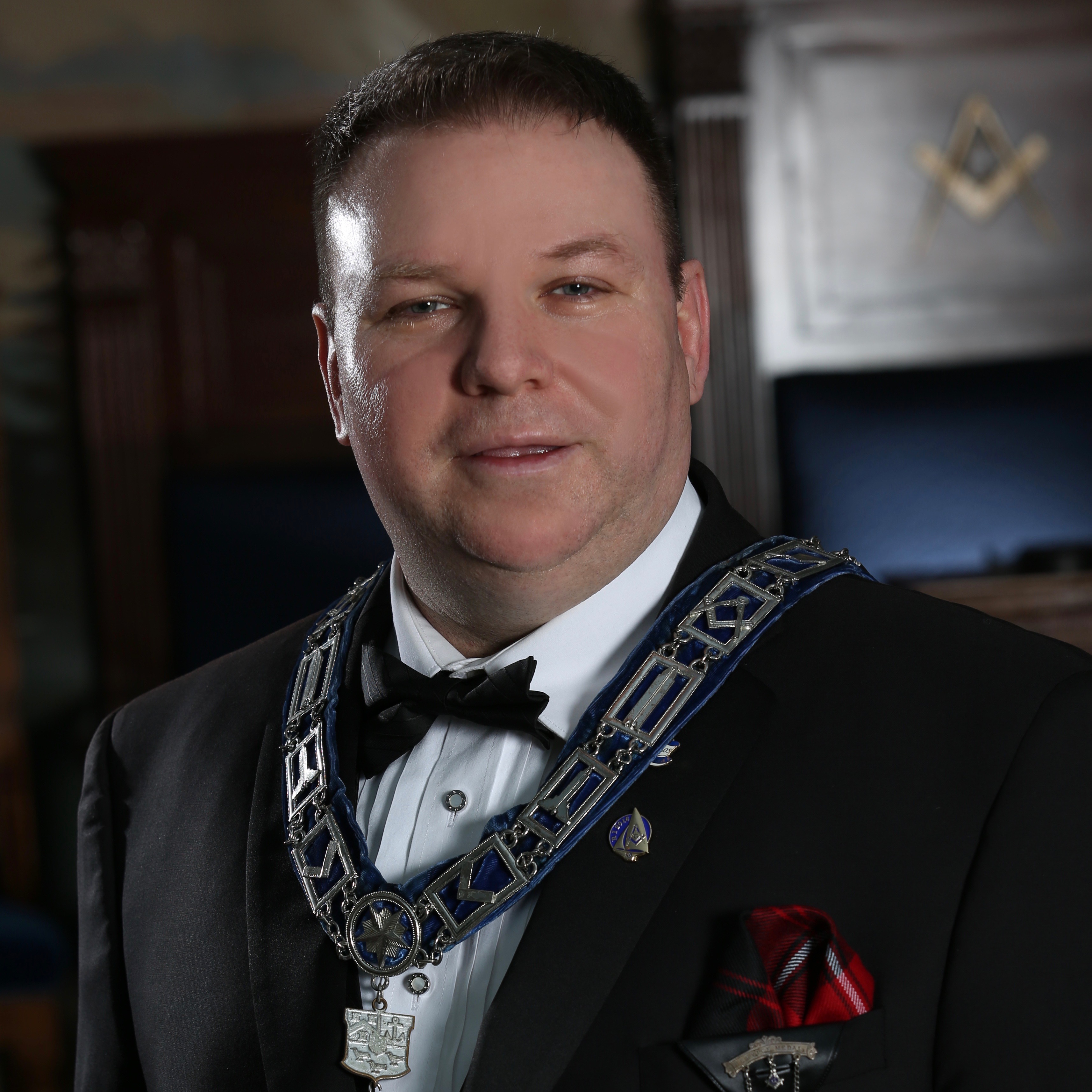 Patrick M. Connor Jr.
Worshipful Master
Harmony Lodge #9 F.& A.M.
2019 – 2020
Dear Harmony family & friends,
I cannot believe the craziness of the events of the past few months, more especially the past few weeks. We saw the worst in mankind with the rioting & destruction across our nation, which tried to overshadow the peaceful protests. We witnessed law enforcement & military alike, show that they support the cause for action against racial inequality. With the news bogging down every station with nothing but upsetting news, we actually saw a glimpse of hope for mankind's future. No, I'm not talking about actor John Krasinski's SGN (Some Good News). Though during the pandemic he did make me laugh & cry with his SGN video clips. I talking about the great success of the SpaceX mission to launch two American astronauts back into space. We saw mankind push the boundaries of what is possible. SpaceX not only launched the astronauts into space on a reusable rocket but they docked with the International Space Station and returned to Earth successfully! Those moments watching with my children gathered around the television reminded me of my youth watching the U.S. Space Shuttle launches. It also harkened the famous John F. Kennedy speech from Rice University when he said, "We choose to go to the Moon in this decade and do the other things, not because they are easy, but because they are hard; because that goal will serve to organize and measure the best of our energies and skills, because that challenge is one that we are willing to accept, one we are unwilling to postpone, and one we intend to win, and the others, too."
How inspiring are those words at a time when Harmony will have to work hard over the next few months to get our work done. This pandemic has really tried to take the wind from our sails but we refuse to let it keep us adrift aimlessly. We have continued our long standing tradition of having a Past Masters meeting in June virtually. I know everyone is bummed that we couldn't meet & celebrate with our usual festivities; with our Steak Fry. It was awesome feeling to be able to work together with Worshipful Ed Diggle, who appointed me in the Officers line! I bet you never thought in a million years that you would be leading a virtual meeting as a Past Master, but you did and did an excellent job! Unfortunately, we will need to Postpone our Annual Picnic originally scheduled for Sunday, July 12th and we're hoping to be able to reschedule it for a date in August when the Governor has lifted restrictions to enable a larger groups to meet in public again. Please check our calendar on our website, Harmony's Facebook page and your inbox for an email from Harmony, regarding dates, times and venues for events that had to be rescheduled. Harmony is also planning to have a Masonic Memorial Service for those Brothers & the Brother's families who weren't able to have a service due to the restrictions caused by the pandemic. I have spoken to Wanda Hopper and we're looking to schedule this event for Saturday, August 15th which would allow her & family the time to travel back up to Little Rhody, while also planning for it when restrictions will allow more of us to be able to attend and pay our respects to our departed Brethren. More details to come on this and many events in the very near future!
As for Harmony's Degrees, we are looking to schedule our Fellowcraft Degree as soon as we have restrictions lifted for being able to meet publicly for more than 15 people. This may happen towards the end of July or early August. As I mentioned before, keep checking those resources listed above for any date changes that will occur. I've also been talking with Worshipful Earl Mann of Ionic Lodge #28. He has expressed wanting to participate with Harmony to do a Master Mason Degree together. We both feel very strongly about getting our Lodges to partner together to make a spectacular degree. We'll be working closely with our Brothers from Ionic to perform the ritual and to have a full–cast, including having 12 Fellowcraft. Obviously will also be working closely with our new Assistant Grand Lecturer, Dave Sousa on the ritual and plan to make this a truly unique event.
As I said when I was first installed, Harmony is one big family. We help one another, console one another and we celebrate in each other's accomplishments & successes. No matter how hard things get, Harmony rises to the occasion to demonstrate the very best of Freemasonry.
Love & Respect,
Patrick Connor
Worshipful Master Harmony Lodge #9 F.&A.M.