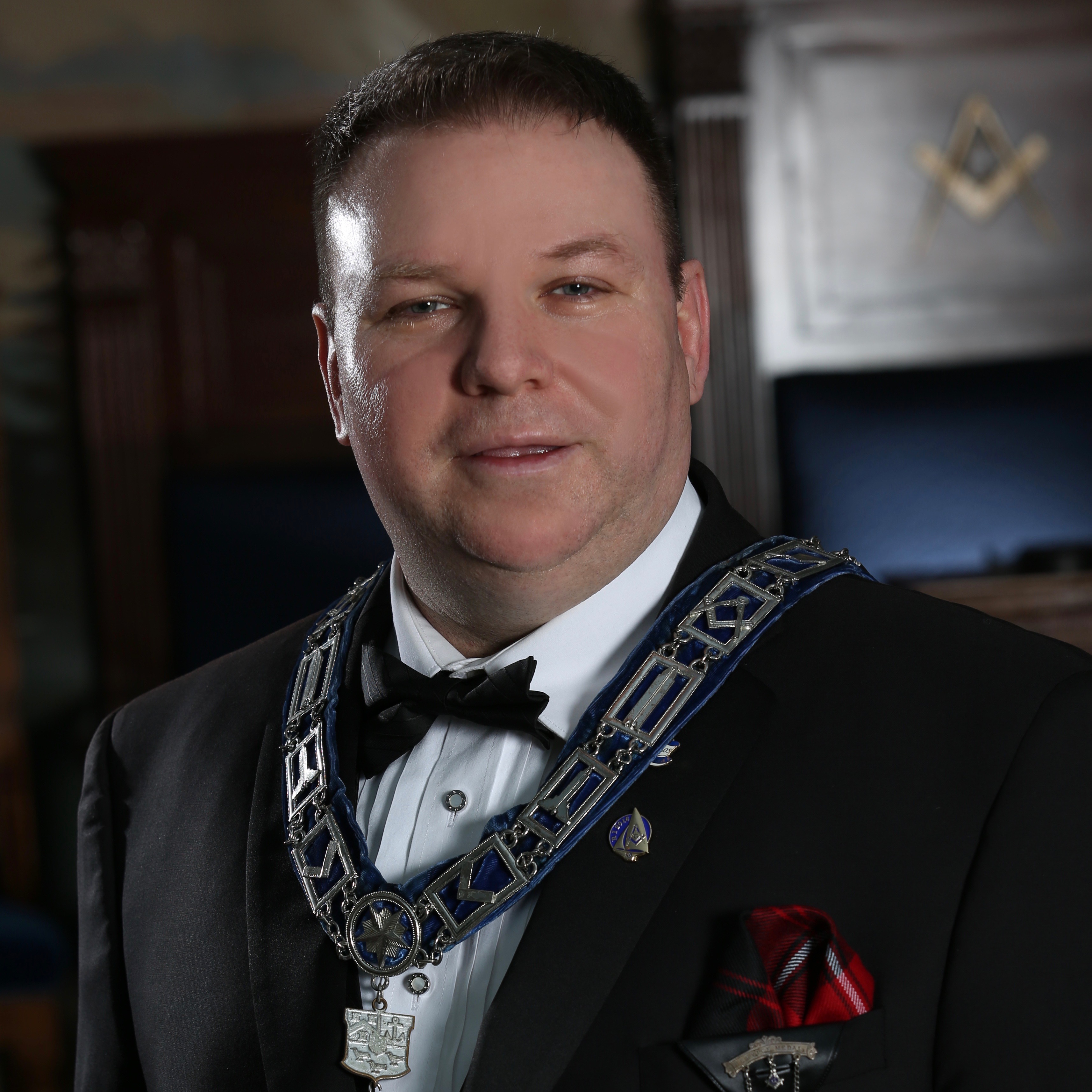 Patrick M. Connor Jr.
Worshipful Master
Harmony Lodge #9 F.& A.M.
2019 – 2020
Wow! What a fast & furious month of December! I just love the holiday traditions of Harmony. From decorating the Lodge and hosting our Annual Children's Christmas Party to spending time with our Ladies at their Holiday Luncheon, it just gets you into the Christmas spirit! Thank you to all those who helped make our Children's Christmas Party a success, especially Brother Senior Steward Bill LaLiberte and his Lady Erin, who did the planning. Our Ladies of Harmony Holiday Luncheon at Lancellotta's was a splendid afternoon as well. Thank you to those Brothers who gave some of our Ladies a ride to the event: it was greatly appreciated.  
This month we have our Annual Meeting of the Doric Association during our January Regular Communication. There will be updates on the improvements done, the renovations currently in progress and future plans for our building.
Those that would like to travel with our Officers are invited to come and attend the D.D.G.M. Gil Fontes' Official Visitation to Manchester Lodge #12 on Friday, January 10th at 7:30 PM (suite will assemble at 7:15 PM). Bring your Masonic Passports if you have one!
Our very own Brother Senior Deacon, Jeremy Newton, has organized a fantastic charity event, Cha Cha for Charity! Our Fidelity DeMolay boys & Woodridge Rainbow girls will be ballroom dancing the night away! The musical theme for the evening is Dirty Dancing and music from that era. The money raised will help start the "I Choose To Dance" after school program at Cranston High School East. With our children's after school activities getting cut because of struggling school budgets, this is most certainly a great cause! I also did not want to forget but not only has Brother Newton organized the event but he will be dancing that night as well! So come out to support them all! Cha Cha for Charity will be held on Saturday, January 11th at the Scottish Rite at 6pm. Tickets are $25. For tickets contact the Fred Astaire Dance Studio (401) 427-2494.
 Our Officers have been working hard on their ritual, as we prepare for our Entered Apprentice Degree, scheduled for Saturday, February 1st at 11:00 am. My hope is that by witnessing our newest candidates take their "first steps into a larger world", it will rekindle your curiosity in the Craft. Those who have had to learn ritual often comment on how beautiful the lectures & rituals are and how they've truly enjoyed learning them. Yet it wasn't until they had to learn it, did the meaning strike them. This is another example of why you should attend our Entered Apprentice Degree. Come renew your oath with us! Reignite the spark and light the fire that is Freemasonry! If you haven't heard…Save the Date or tell Siri to remind you for Tuesday,February 4th we'll open Lodge early at 6:30 pm and conduct the business and close. Afterwards we'll enjoy fellowship with a Craft Beer Tasting brewed by our own Brother Kyle Gamache, which will be paired with a delicious meal created by Lisa Dupre to compliment the each of the three craft beers. This is one unique event not to miss! Reservations for the evening will be REQUIRED.
Love & Respect,
Patrick M. Connor Jr.
Worshipful Master
Harmony Lodge #9 F.&A.M.