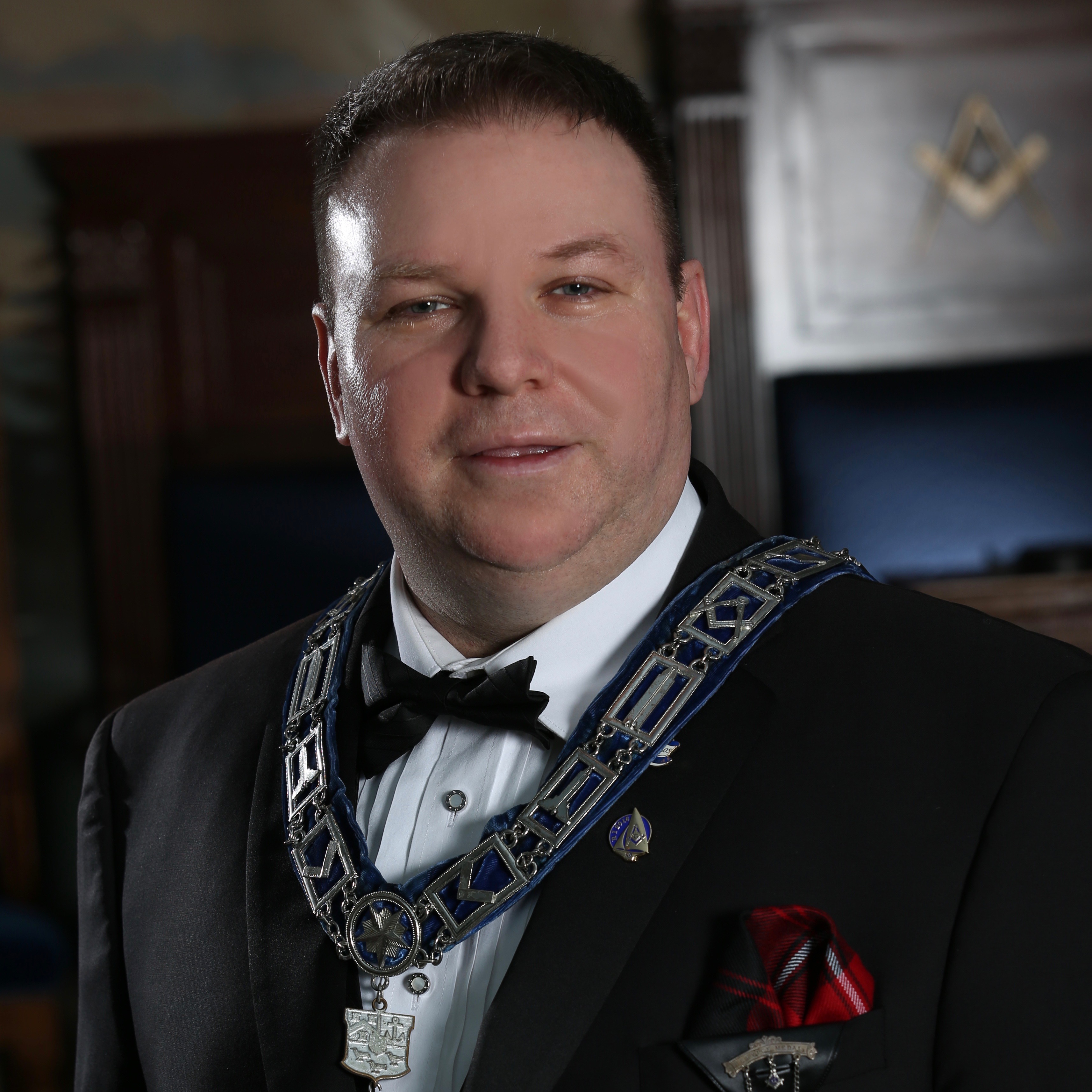 Patrick M. Connor Jr.
Worshipful Master
Harmony Lodge #9 F.& A.M.
2019 – 2020
I must first say that I'm both honored and humbled to have been elected as the Worshipful Master of Harmony Lodge #9 F.&A.M. for the Masonic year 2019-2020. I'm very excited for our new year to begin as are our Officers for 2019-2020! The Annual Communication was one to remember. It's now one of my most favorite moments being a Mason. Having Worshipful Ed Diggle, who was my instructor coming into Freemasonry here at Harmony, have the opportunity to pass me Harmony's charter was a really special moment! Ed also appointed me into the Officers line …so disclaimer, if I mess up…blame him. Just kidding , I seriously hope to do Ed and the rest of thisLodge proud. With the enthusiasm of our Officers and everyone from our sidelines there was excitement in the air. The turnout and support you all gave was amazing! Thank you.
Our Annual Banquet was a splendid evening! Everyone enjoyed the performance by our Jr. Deacon, Brother James Lafitte and the Bryant University Jazz Ensemble. That was a terrific treat to get us in the mood for the Holiday Season! I know my family enjoyed dancing to the sounds of Jersey Grease bands from our DJ Eddie "The Fixer". Having my family be able to attend and meet my Masonic family for such a special occasion was yet another highlight. Since they live in Pennsylvania and as life happens, it's not so easy to visit and see them. Harmony has really become an extension my family. Thank you to all my Harmony family & friends for coming out to celebrate and kick off our new year!
As we've all heard many times from the many that were Masters before, we've hit the ground running. They weren't kidding and couldn't prepare me enough for the Saturn Five rocket we call the start of Harmony's year! We'll start with our meeting on Tuesday, December 3rd. As you all know we traditionally do a toy drive for Toys for Tots. This year we're asking each of you to donate an unwrapped toy into the collection box in our entrance. Those of you attending our December meeting who bring an unwrapped gift to donate, will receive dinner for FREE! During our meeting we'll have a brief presentation from our local U.S.Marines on the origin and widespread effects of the Toys for Tots charity. So let's fill the donation box and really make an impact!
Brothers please note that we need all applications turned in to our Secretary, Wor. Brother Bob Kempf no later than our December meeting. Their names need to be read in open Lodge in December and they'll need to be voted on in January's meeting in order to be part of our upcoming class for this year here at Harmony.
That same evening our Grand Master Kenneth F. Poyton will be having his official Visitation to Adelphoi Lodge #33 at 7:00 pm. Most Worshipful, Brother Richard Ault will be leading a suite of Past Masters to attend and show support from Ken's Mother Lodge that evening while our Officers continue with the work here at Harmony.
Thursday, December 5th is when we deck the halls of Harmony and get the gifts wrapped for our upcoming Children's Christmas Party. We'll be having potluck and some libations to enjoy that evening.
Mark your calendars for Saturday, December 7th for our Annual Children's Christmas Party! Make sure you've also been in contact with our Sr. Steward, Brother Bill LaLiberte to make sure your children have made it onto Santa's Nice List.
I'm still trying to pull together a unique idea for a Christmas Church Service for Sunday, December 15th. I will have more details to follow. Stay tuned!
Our Fellowcraft Club meeting is on Wednesday, December 18th at 7:30 pm. We'll have a few items to discuss for preparation for our Annual Game Dinner.
Harmony will be participating again in our Masonic Food Baskets hosted by St. John's Lodge #1P over at Scottish Rite on Saturday, December 21st at 6:00 am. For those who haven't done this yet, it's a fun morning and you'll see the organized chaos of how quickly and efficiently the food baskets get created with everyone's help. Afterwards we drop them off to our Masonic families and friends who will appreciate such a gesture. if you know of a someone or a family that could use a gift basket please contact me by email: master@harmony9.org or by phone/text: (212) 203-2011. Then we have some time to rush around, get all your Christmas shopping, wrapping, decorating and cookie baking done and enjoy Christmas with your families.
Our Ladies of Harmony Holiday Luncheon will be held on Saturday, December 28th at Lancellotta's from 12:00 pm – 3:30 pm. Any anyone who needs transportation to this event, or others for that matter, please do not hesitate to ask. The Brothers will be happy to do so.
We have already started our new initiative to improve our communication within Harmony. The Ladies of Harmony received a letter to update them on upcoming events that might like to attend and to ask them to update us on their current contact info. Our Jr. Deacon, Brother James LaFitte is helping head the effort so please reach out to him. We've also created a Ladies of Harmony Facebook page to help promote future events and so that the ladies can chat and plan their own gatherings/events. Our Brothers will start to receive a weekly email with updates on each week of events throughout the year. We've been doing this with much success amongst the Officers for the past month or so.
Well before Sr. Warden, Brother Dave Desplaines reminds me that one of the items I need to improve on is writing shorter Master's Messages, I leave you with this…Thank you, I'm so excited, honored, and happy to have all your support and look forward to this rocket ride with you all!
Love & Respect,
Patrick M. Connor Jr.
Worshipful Master
Harmony Lodge #9 F.&A.M.