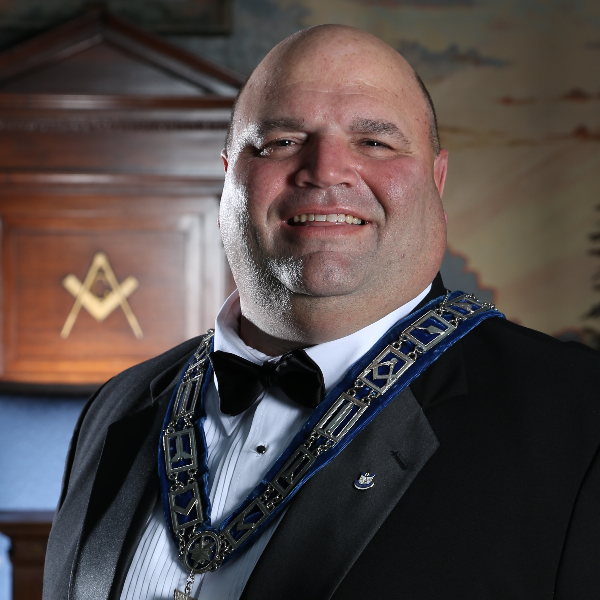 Robert Izzi
Worshipful Master
Harmony Lodge #9 F.& A.M.
2018 – 2019
Dear Harmony Lodge Family,
It goes without saying that it has been a very busy time at Harmony since my first Master's Message just four short weeks ago. Here is a brief recap of recent events: With the work completed at the Annual Communication of Harmony Lodge, we began our new Masonic Year on Tuesday, November 20th. I want to recognize Wor. Mickey "SD" Torgan, not only for his successful year, but also for the good counsel he has provided not only to me, but also to his Line Officers, throughout his progression to the East. I would also like to thank the Prologue Team for their work during the Semi – Public Installation. As I shared that night and at the banquet these three men have special connection to me and it was truly an honor to have them share the evening with me. Thank you to Wor. Richard Wood, RW Dave Armstrong and Brother Bob Fish for your excellent work on the night, your good counsel and especially your friendship. As they have done in the past, the young men of Fidelity Chapter did a fine job helping out with serving the dinner and assisting with the clean-up. Although she may not read this directly, I wish to say a very special thank you to Chef Lisa Dupre for the meal prepared that night and for her willingness to stay on as our primary Chef for the coming year. For those Brothers who were hoping to shed a few pounds in 2019, my self included, we will have a tougher road with Lisa in our kitchen ! I would also like to thank R:.W:. Rick Baccus and his Installing Suite, all of whom did an excellent job with the Installation of Officers that night. A very heartfelt thank you goes out to all of the Officers for accepting their re-appointments to continue in line and to our newest officer, my Sentinel appointee Brother R. James Lafitte, buckle up boys! 
Next on the dance card was our Annual Banquet held on Saturday December 1st at the Valley CC. What a phenomenal turnout, eighty seven souls consisting of brothers, family, friends and special ladies as we celebrated the official introduction of officers and combined the day to honor our own ladies and special ladies for our Holiday luncheon. Each lady received a gift given personally from my wife Denise and I, the Christmas picture frames are beautiful and they were a big hit. Great food and great company made for a successful and memorable Banquet. Thank you to Brother Junior Steward Thomas Drumm for his meticulous work in handling all the reservations and check in duties at the door and to Mick Torgan's daughter Nicole for handling all of the flower pinning duties. 
The train keeps rolling and next stop was our Sick and Infirmed and Widows Holiday Visits: After a hearty breakfast at Athena's on December 8th, fifteen Brothers went back to the Lodge and picked up the gifts of Holiday plants and homemade baked goods for our visits courtesy of my Lady Denise Izzi. These sweet treats are a BIG hit. I know a lot of work goes in to not only baking them, but also wrapping them, and cannot thank you enough Denise for being "All In" on this journey with me. Junior Warden David Desplaines did a fine job coordinating the 28 visitations that were made on Saturday. 
Upcoming events as this Master's Message is being written in December for the January Trestleboard, include the Children's Christmas Party which was held on Saturday December 15th, we have over 100 reservations including 32 children receiving gifts from Santa and Mrs. Claus. The Entered Apprentice Degree is scheduled for Saturday Feb. 2nd, I am issuing a call to all brethren and especially past masters to participate. I will be continuing the tradition of having a family meal after the degrees where we enjoy spending time with the Candidates and their families and has proved to be a big success. 
We will be returning to the Groton Inn for our Getaway on Feb 22-24, the cost per couple includes for two nights lodging, Friday night snacks and appetizers, breakfast buffet Sat/Sun and group dinner Sat night followed by our traditional (with a twist) Yankee Swap, cost is $260 per couple. Complete details and payment terms will be given in January meeting. Anyone going as single the cost is $200. 
I would like to close with saying that I hope everyone had an enjoyable Holiday season. May the Great Architect of the Universe continue to watch over us, and I wish nothing but the best for you and yours as we begin a New Year. 
Fraternally,
Robert Izzi, Master